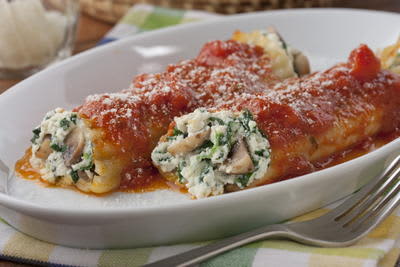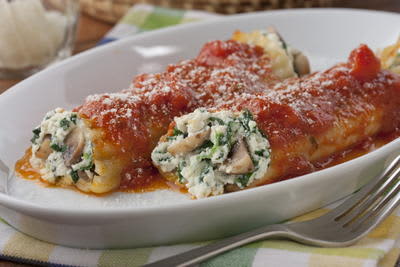 Restaurant-Style Spinach Manicotti
August 29, 2018
Who says you need fancy restaurants for classic Italian dishes? Our Restaurant-Style Spinach Manicotti is a lighter version of your favorite baked pasta dish, so you can still enjoy this Italian dish, in moderation of course!
Ingredients
1 (8-ounce) package manicotti shells (14 shells)
1 small onion, diced
2 garlic cloves, minced
1/4 pound fresh mushrooms, diced
1 (32-ounce) container fat-free ricotta cheese
1 cup (4 ounces) shredded part-skim mozzarella cheese
1 egg
1 (10-ounce) package frozen spinach, thawed and squeezed dry
1 1/2 teaspoon Italian seasoning
1/2 teaspoon black pepper
2 cups light spaghetti sauce
2 tablespoons freshly grated Parmesan cheese
Directions
1Cook the manicotti shells according to the package directions, omitting the salt; drain, rinse, drain again, and place in a large baking dish. Preheat the oven to 400 degrees F.
2
3Coat a small saucepan with nonstick cooking spray. Add the onion and garlic and saute over medium heat until tender. Add the mushrooms and saute until brown.
4
5Meanwhile, in a large bowl, combine the ricotta and mozzarella cheeses, the egg, spinach, Italian seasoning, and pepper. Add the onion mixture; mix well.
6
7Spoon the mixture into the manicotti shells (see Note), top with the spaghetti sauce, and sprinkle with the Parmesan cheese. Cover with aluminum foil and bake for 30 to 35 minutes, or until heated through.
Source: Everyday Diabetic Recipes
To fill the shells, carefully place the cheese mixture in a large resealable plastic storage bag with a corner snipped off. Then you can just squeeze the filling into the manicotti shells, using the storage bag like a pastry bag. Simple, right?