OmniPod Insulin Pump Management System
Omnipod Insulin Management System provides up to 3 days of non-stop insulin management without daily injections. Its insulin pump system lets you manage insulin delivery simply and discreetly. Read answers to frequently asked questions.
From the Massachusetts-based medical device company Insulet Corporation, the Omnipod line of insulin delivery systems offers a fresh approach for insulin management to people with diabetes. US MED sells the Insulet Omnipod and Insulet Omnipod DASH systems, both of which utilize tubeless, waterproof  "Pods"  for insulin delivery.

Insulet Omnipod
Diabetes management doesn't have to be a chore when you're using the Omnipod insulin pump! The system's internal reservoir, pumping components, and insertion components are all included in a small, wearable "Pod."
Benefits
Insulin Without The Hassle
The Omnipod system is capable of delivering insulin without the use of shots or tubing.
Manage Your Diabetes
With the Personal Diabetes Manager, you'll be able to check your glucose levels and review your records.
Dive Right In
The Pod can go as deep as 25 feet underwater for up to an hour - you won't have to remove it before swimming or showering.
A Wearable Device You'll Forget You're Wearing
Your Pod will weigh just 0.88 oz. (not including insulin).
Insulet Omnipod DASH
Take your Omnipod experience to the next level with the Omnipod DASH system. This system preserves everything you know and love about the original Omnipod system, enhancing it with updated technology - including a touchscreen interface, Bluetooth connectivity, and more.
Benefits
New And Improved Diabetes Management
The new Omnipod PDM features an easy-to-use 4-inch touchscreen display.
Fresh iPhone Apps
If you use an iPhone, you'll be able to download the Omnipod DISPLAY app and connect your phone directly to your Personal Diabetes Manager. Meanwhile, friends and family members can keep an eye on how you're doing with the Omnipod VIEW app.
Long-Lasting Insulin Delivery
The Omnipod DASH can deliver insulin for up to 72 hours straight.
Same Great Functionality
Just like the Omnipod system, the Omnipod DASH system provides insulin delivery that doesn't rely on tubing or shots.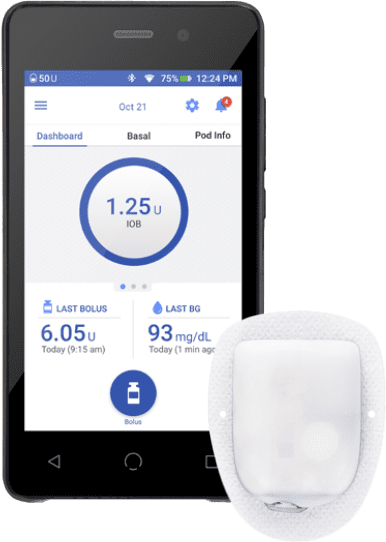 Frequently Asked Questions
The Omnipod and Omnipod DASH systems are not available for cash/credit purchase from US MED at this time.
Since January 1, 2019, Omnipod systems have been covered under Medicare Part D, which focuses on prescription drugs.
Insulet Omnipod systems are meant for use with rapid-acting insulin. The Omnipod® System is designed to use rapid acting U-100 insulin. The following U-100 rapid acting insulin analogs have been tested and found to be safe for use in the Pod: Novolog®/NovoRapid®, Humalog® or Apidra®, and Fiasp.
Omnipod Pods hold up to 200 units of insulin. They need to be filled with at least 85 units to start operating.
You should fill your Omnipod with the fill needle and syringe included in its package. Other needles or filling devices should not be used with Omnipod systems.
Omnipod Pods can function as intended as deep as 25 feet underwater for up to an hour. This does not apply to Personal Diabetes Managers, which are not waterproof.
These systems do not include continuous glucose monitoring (CGM) capabilities, but they can be used independently with external CGM systems.
Omnipod systems do not integrate with the CGM systems currently on the market. This includes the Dexcom G6, FreeSyle Libre, and FreeStyle Libre 2 systems.