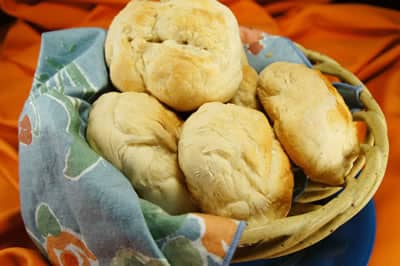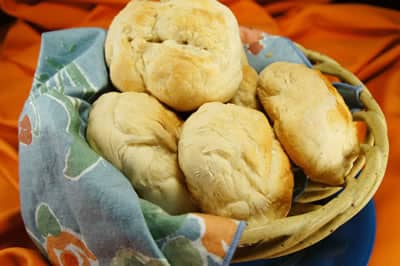 Bolillos (Rolls)
August 29, 2018
Ingredients
1 package active dry yeast
1 1/3 cups water
1 tablespoon honey
1 tablespoon shortening, melted and cooled
1 ½ teaspoon salt
3 ¼-4 cups flour
Nonstick spray
Directions
1Sprinkle yeast over the warm water in a large mixing bowl; stir and let stand 5 minutes.
2When the yeast is working a bit stir the honey, shortening and salt into the yeast mixture.
3Add 2½ cups flour.
4Mix at low speed and then beat at medium speed until the dough is very elastic, about 5 minutes.
5Gradually stir in as much of the remaining flour as needed to make a soft dough.
6Knead on floured surface until dough is smooth in texture and very elastic, 15-20 minutes.
7Spray bowl with nonstick spray. Wipe with towel and spread spray over bowl.
8Place dough in a grease bowl, turn the dough so all surfaces have a sheen of oil.
9Cover and let rise in a warm place until it has doubled in size, about 1 hour.
10Punch the dough down and knead briefly on a floured surface.
11Divide dough into 10 pieces and roll into balls.
12Work with the palms of your hands and start at the center of each ball to toll out into ovals.
13Each piece should be able 5 ½" long and 2" in the middle, tapering to each end.
14Place rolls on a greased baking sheet, cover and let rise until almost doubled, about 25 minutes.
15Meanwhile, heat the oven to 375°F.
16Slash each roll down the middle stopping about ½" from each end and cutting about ½" deep.
17Bake until the rolls are brown and sound hollow when tapped, about 30-35 minutes. Remove from baking sheets and cool on racks.
18Serve warm and fresh from the oven.