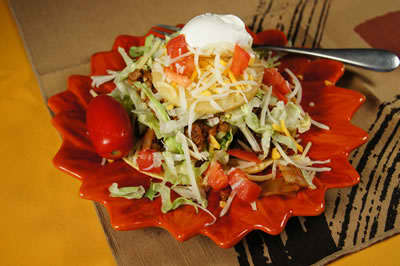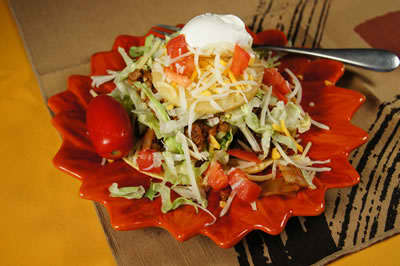 Pineapple Tostadas
August 29, 2018
Yields: 4 servings (8 tortillas)
Ingredients
¾ pound ground beef
2 tablespoons oil
½ cup chopped onion
2 tablespoons chopped green pepper
1 clove garlic, minced
1 tablespoon chili powder
8 ounces tomato sauce
¾ teaspoon salt
4 corn tortillas
1 8¼-ounces canned sliced pineapple, drained
4 cups shredded lettuce
1 cup shredded Jack cheese
¼ cup dairy sour cream
Directions
1Brown beef in 1 tablespoon oil in a large heavy skillet. Drain excess fat.
2Add onion, green pepper, and garlic to skillet and sauté until tender. Stir in chili powder, tomato sauce and salt.
3Fry tortillas in remaining tablespoon oil until crisp; drain and keep warm.
4Add well-drained pineapple slices to skillet and sauté until heated and tinged brown.
5To assemble, place ¼ cup beef mixture on each tortilla and cover with ½ cup lettuce. Repeat layers.
6Top each stack with a slice of pineapple, ¼ cup cheese and tablespoon sour cream. Serve at once.
Nutrition Facts
Serving Size
1 serving (2 tortillas)